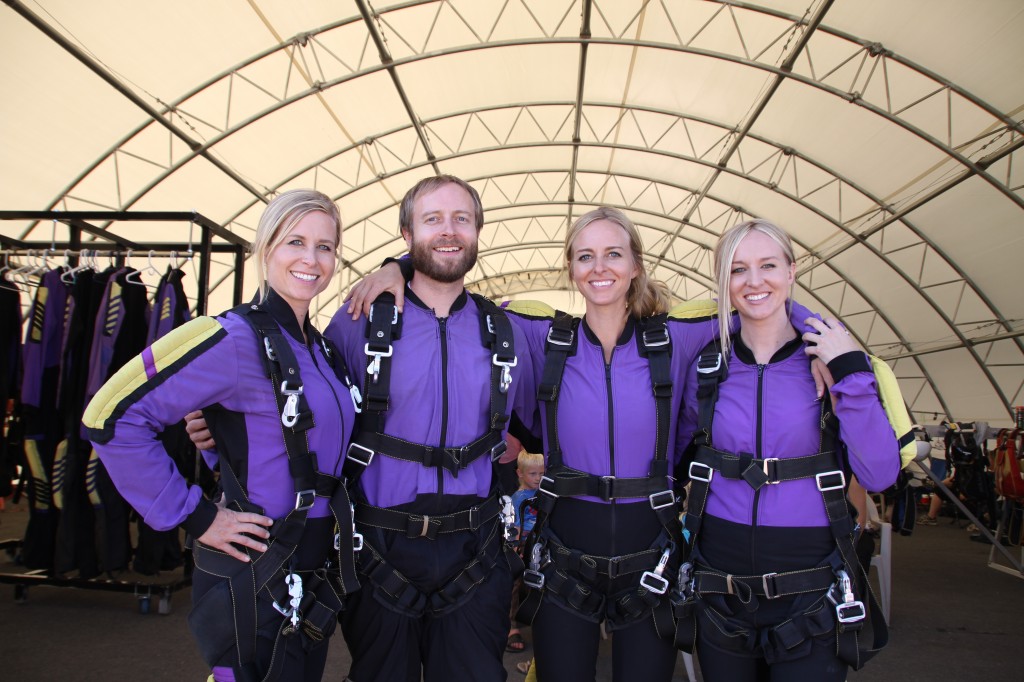 Today I went skydiving!  Yes, I actually jumped out of a plane 12,000 feet up in the air, free fell for 50 seconds, then enjoyed soaring above the earth for another 5 minutes after our parachute opened.   It was an exhilarating, thrilling, massive adrenaline rush, yet at the same time, surprisingly peaceful experience.   The moment the door to the plane opened, I felt like my heart had moved to my throat.   The moment we stood in the doorway, ready to jump, I thought to myself as I saw the ground so far below,  "Am I really doing this? Am I going to die?   Oh my goodness, Jesus help me!"  My tandem instructor counted to 3 and next thing I new I was falling.  Head back, legs tucked behind me, arms outstretched, it's the closest thing to flying imaginable.  I loved it!!!!
Why did I skydive?   Am I a natural thrill seeker?   Nope, I am definitely not.   (Unless you consider child birth thrill seeking.  I am still of the opinion that natural childbirth is the most thrilling, exhilarating, and powerful experience I'll ever have.)
Was this on my bucket list?  No, I don't even have a bucket list.   I have dreams, but skydiving, though something I thought maybe I would like to experience at some point in my life, was not even close to being in my plans for this year until a few weeks ago.
I went skydiving today because I love my siblings, and I love creating memories with them.   I also went skydiving because God is teaching me to be brave and this experience required a whole new kind of bravery, but that's for another blog post….
My sister Hannah's birthday was last week.  Her birthday desire was to go skydiving. She asked me and our brother Micah and our sister Kaitlyn to go with her.  I told her I would think/pray about it, do a little research, and yes, probably go with her!  Kaitlyn and Micah were immediately in.   How could I not participate in this epic sibling event???!!!  AND, I thought, if Michelle Duggar (mother of 19 kids) could do it, than so could I!
If my parents did one thing right in raising us kids, (They did a TON right in raising us) they taught us to love each other and value our relationships as siblings.
This is what this my post today is all about.  Siblings.  How to nurture healthy, strong, sibling relationships in your home.
There are eight of us in our family.  Eric and me and our six children.   This makes for 28 relationship combinations in our home!  WOWSERS!!! No wonder things seem crazy sometimes.
I come from a family of six and so does my husband.  We both happen to be the oldest of four children.  I have one brother and two sisters.  Eric has one sister and two brothers.  Interesting, huh?   These opposite gender siblings all happen to be the same age (the last two siblings are a year a part, so not exactly the same age…)   If all of the Stover children had married all of the Holmlund children we could have started a new race and called it the Stovlunds.   Something to think about:)….lol…
I have always been close to my brother Micah who is 2 1/2 years younger than me.  We rarely fought with each other. I have memories of mischief with Micah including trying to turn our bedroom into a swimming pool by dumping cups and cups of water on the floor while our mom talked on the phone.  I remember being so confused as to why the carpet was all wet, but the water level not rising.  Mom gave herself a good timeout before dealing with us when she finally found out what we were doing.   Micah and I spent hours hiking the hills behind our house,  playing Nintendo, playing in dirt, going to various youth group events together, and of course, he was the chaperone of choice when Eric and I were dating.   Micah is awesome, but awesome doesn't even begin to describe the incredible man that Micah is.  I am so thankful he is my brother and a part of my life.
As a child and teen, Kaitlyn who is 5 1/2 years younger than me, confused me.   Kaitlyn was loud, and bold, and full of fire.   I didn't understand her childhood outbursts whether it be an outburst of joy, sadness, or pain.   I didn't understand how Kaitlyn could do what she did or ask for what she wanted without worrying about what people would think. Kaitlyn was witty and passionate and fearless.  Me, not so much, but I wished I could be.  Though I loved her dearly, I didn't treat Kaitlyn with tenderness or kindness like a big sister should.   Thankfully, that changed as I entered my college years.   I came home for breaks and realized how much I loved and enjoyed Kaitlyn. I repented for the way I had treated her and was finally freed from my jealousy.  Over time, we truly became great friends!  I adore Kaitlyn!!!  I am her biggest fan!  Kaitlyn brings me joy! Those characteristics that confused me in my youth, are now the very things I value in Kaitlyn and make her the strong leader that she is today.
Hannah was my baby.  She was born when I was 11 years old.   I actually told our mother that Hannah was mine.  Kaitlyn and Micah were hers, but Hannah belonged to me.   I know that this is not true, and Hannah is very much my mother's daughter, this just shows how much I loved and cared for Hannah.  I loved holding her, playing with her, teaching her, praying for her, caring for her, etc…. Our relationship hasn't always been easy, but I have enjoyed watching Hannah grow up and become the beautiful, wise, humble, Christlike woman she is today.   Hannah is a tremendous blessing to me, my love for her goes deep,  and we are also very close.
Eric and I want our children to get along.   We desire our children to honor, love, value, and respect one another.  We want our children to feel safe with each other.  We want our kids to grow up realizing what a gift from God it is that they have siblings.   We expect our children to treat each other with kindness, and we continually remind them that they can be best friends.   Oh, there are PLENTY of arguments, tears, and misunderstandings in the Holmlund household. But for the most part, our kids really love each other and enjoy being in each other's presence. Even to this day, they frequently ask for ANOTHER sibling.
I want to share some things that we do in our family to help nurture and protect our children's relationships with each other. Many of these things I learned from my experiences growing up in the Stover house.
We don't allow our children to be mean.  They are not allowed to call each other names, physically hurt each other,  mock each other, or put each other down.  By nature humans are inclined to be mean from time to time.  Our kids are not flawless in this regard, neither am I, but once it begins, we nip it in the bud.  Tirzah somehow heard the expression, "You're a loser." (Probably from a movie)  She quickly put that phrase to use and told Judah, "You're a loser." Does she know what this means?  Probably not, it just feels good to say, right?   Well, Tirzah has learned (actually, she's in the process of learning)  that saying things like this are not acceptable in the Holmlund house.  Those are unkind words.  We have the fruit of the Spirit and kindness is one of those fruits.  Our kids are freer to be themselves and grow close to each other when they know that meanness is not allowed.
We make up.  Almost every time I got in a fight with my siblings my mother made us hold hands, look into each other's eyes and say, "You are my sister/brother and I love you."  We groaned, and twisted, and acted like it was such a horrible thing to do, but really, I was thankful my mom made us make up and state our love.  We also had to say 3 nice things about each other, also while holding hands.  We don't do this every time our kids get into a tiff, but we do it from time to time (I have a feeling I'll be using this "make up" tactic here more in the future, because it's sooo good!). Our kids also groan at this, but often giggle, and I know that it helps them get back their connectedness after an argument.  We apologize to each other for wrong doings.   We apologize and forgive and then we move on.
Bible time.  Our family devotions encourage sibling unity and love.  Putting Jesus first in your home, reading the word and praying together is, in my opinion, the number one way to develop family and sibling unity.
Homeschooling.  I realize, not everyone reading this blog homeschools, so I want to preface what I am about to say by stating that I do not believe there is one right way to educate your child.  We are all called to different things depending upon our family and situation. My husband went to public school, for the most part had a good experience, and he and his siblings all love each other and are close.  Our family has chosen to homeschool.  We love homeschooling for many reasons, one of them being the amount of time we get to spend together as a family.  Our big kids get to see many of the hilarious and adorable things our little kids do throughout the day.  Our little kids get to be held by, hugged and kissed, and cared for by their older siblings often.   Siblings close in age have plenty of time to play together.   I love reading history books and novels as all of our children are gathered around our kitchen table, or comfy on our family room couch.
Travelling together, building memories.  I asked our children what they think helps them to be close.  Isabelle and Emmy both said going on family trips.   We go on a lot of trips in our family whether it be mission trips or family vacations.  We love travelling.   We pair older siblings up with younger siblings when we fly on planes.   On road trips our kids are all packed in close in our small, class C RV.  We make a lot of memories together.  Fighting and isolating is pretty much not an option when we travel.  Our children love eating new foods, swimming together, working on projects together, and serving together when we go different places.  We creative special memories when we travel together.   Shared new experiences keep us close and foster intimacy between our kids.
Teamwork.  I often tell our children that our family is a team.  Laundry gets done faster (usually) when done as a team.  Cleaning the kitchen, doing animal chores, yard work, gardening, you name it, is easier and funner when done as a team.   Our children are protective of each other.  When one of us is blessed, we are all blessed.  When one of us is hurt, we have compassion for and care for each other.   We love each other and support each other.   In April, our supplemental homeschool program called Olive Tree has a graduation program for all of the children involved.  Eric and I will shout and cheer loudly and wildly for our kids when their name is called and they walk across the stage.  They smile and blush and are proud to be Holmlunds.
Prayer.  I pray for our children to be close.  I pray for their hearts to be soft and not jealous.  I pray that they value each other.   I pray that they will be lifelong friends.  I pray that they will encourage each other and support each other even when they grow up and leave our home.
We prioritize our family.   Our children all have friends close to their age.  They all love play dates and hanging out with other kids.   This being said, our kids never seem desperate for play dates or sleepovers.   They truly are each other's best friends.  I'm not just saying this because it sounds good.  It is the truth.  Whether it is Josiah and Emmy hanging out, Emmy and Isabelle, Judah and Tirzah, or Tirzah and Ruthie.  They are all friends.  We make our family time a priority over time with peers.  They go to youth group, dance classes,  and Olive Tree.  They have play dates with neighbors and friends.   But on those nights that we don't have planned activities, we make sure we are home together as a family. My mother continually reminded me and my siblings growing up, that friends may come and go, but Lord willing, siblings you'll have forever.
Love your kids all equally and differently.   Praise and encourage your children's unique and individual giftings.  Be careful of putting labels on your children or comparing your children to each other.  My mom used to say, "There are no shy Stovers."  Even if a couple of us were more introverted and a couple more extroverted, shyness was not allowed because we are the light of the world.  We are Jesus to people around us.  I LOVE that my mom told us this!   I tell my kids the same thing, "No shy Holmlunds."   If you have a "difficult"  child.  Look for and call out that child's good qualities.  My husband has been so helpful to me in this area.  Our kids all have VERY different personalities.  Some are easier to relate to and handle then others, but not one is better than the other.  They are all different and they are all wonderful!
Grace.  Our kids are not going to get along 100% of the time.  They are going to have disagreements, arguments, and fights.  They are going to say stupid things to each other. Often our kids feel frustrated by their disagreements or they feel badly about the way they have treated each other.  I remind them that even their daddy and I have disagreements and get angry with each other.  The important thing is to forgive each other and to move forward after those disagreements.   While we need to foster an atmosphere of kindness and respect, it is impossible to expect our children to be perfect.   I have found that our kids are freer to get along, make up, and be each other's friends when they experience grace from me.
I encourage you to help your children honor, value, and love each other!  Ask God to help you foster an environment of unity in your home.   Raise a standard against discord and meanness. Don't be afraid to set new rules regarding how your children should treat each other.   Have fun as a family!   Be free to prioritize family time above everything else.  Declare your family name to be a name that your children can be proud of.
I would love to hear how you nurture and protect your children's relationships with each other! Please free to comment with your thoughts, ideas, and experiences.   I look forward to reading what you have to say and learning from you!   Our families are all good works in progress.
Below are some pictures from my memory making, epic experience, skydiving with my siblings.