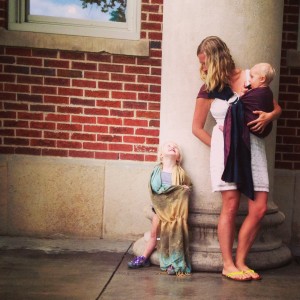 I love baby wearing!  My friends and family will attest to this. Not only have I been baby wearing for almost 14 years, I've given multiple carriers away as gifts and encouraged mommies to wear their babies.  Baby wearing is one of my top "Happy Journal" things in all of life.  I'm wearing my 10 month old on my back right now as I write.  I love having my little ones close to me while I grocery shop, cook, clean, teach, choreograph, and play.   I love knowing they are experiencing the world and learning new things from the safety of my arms and close enough to look at my face.  I love savoring the preciousness of that first year of my baby's life by having her right at my heart.   I love the convenience of breastfeeding that comes with baby wearing.   Women all around the world for thousands of years have been wearing their babies every day. Baby wearing produces easy going, happy babies!
My baby wearing began when our first born, Josiah, was only a few weeks old.   I was 21 years young.   Josiah wanted to be held most of the time, and I wanted to hold him, most of the time.  I made a sling out of a big white sheet.  Since then, and five children later, I've used a Snuggli,  Baby Bjorn, Sling E-Zee, Hava Sling, Moby, Ergo, and Sakura Bloom Slings. Just recently I tried a Girasol woven wrap.  There are more carriers out there than I can count and many blogs and websites devoted to baby wearing.  I'm going to briefly give my baby wearing recommendations and then post some of my favorite baby wearing pics.
If I could only keep one baby carrier which one would it be?   The Ergo!  I've used my Ergo a ton.  I've brought it to Israel twice, Maui, Jamaica, various road trips, and of course I've worn it for walks, hikes, shopping trips, while gardening, cooking, cleaning, etc…  My babies and toddlers also love the Ergo.  You can wear little ones up to 45 pounds or as long as you both are comfortable.  I appreciate the convenience of wearing my little ones on my front, on my back, or on my hip.  It's easy to get them in and out of.  It's super comfortable, durable, easy to clean, and doesn't take up much space.  There's a zippered pocket for keys, diapers, and it a little bag of wipes.  It also has a little sunshade that can be pulled up and snapped over baby's head.  There you go.  The Ergo!
Oh how I love the ring sling.   My first ring sling was the Sling E-Zee .  It's a padded ring sling that comes in a bunch of colors and patters.  I found it to be extremely comfortable and our Isabelle spent many happy hours in that sling. I wore that sling out.  I now have two Sakura Bloom ring slings, one linen sling and one silk sling.  Though I'd have to choose the Ergo if I could only have one carrier, my Sakura Bloom slings get used everyday, multiple times a day. These slings are so comfortable and beautiful.  I recently wore RuthAnne for hours in my linen sling while leading a dance camp in Lake Providence, Louisiana.  I enjoy looking at beautiful pictures of mothers and their babies in Sakura Bloom slings.  I follow several Sakura Bloom Sling Diarists who document their mothering and baby wearing experience on Instagram.   The linen sling is breathable, soft, and great for all climates including heat and humidity.  The silk is grippy, lightweight, and so beautiful.   I love the convenience of a ring sling.  You can slip it on and off in seconds and it folds up easily into your diaper bag or purse.  The ring sling is also convenient for breastfeeding, I often use the tail of my sling as a nursing cover-up.
Then there's the wrap.  I had a Moby, but it was too hot and bulky for me.  Recently, I tried a Girasol Woven Wrap.  I find this woven wrap to be much more comfortable than the Moby. Woven wraps can be worn in many different ways. There are multiple YouTube videos dedicated to teaching Mamas wrapping technique.  I enjoyed wearing my toddler on my back.  I haven't decided yet if I'll continue to use the woven wrap.  While it's fun to try out different carries, I'm not sure I want to spend the time it takes to learn all the carries or to get wrapped up when I go out in public.
For a whole lot more info on baby wearing check out the thebabywearer.com .  Pretty much every question you can think of regarding baby wearing or baby wearing products is located there.
I also recommend reading Dr. Sear's articles on baby wearing.
So now, here are those pics I promised you.