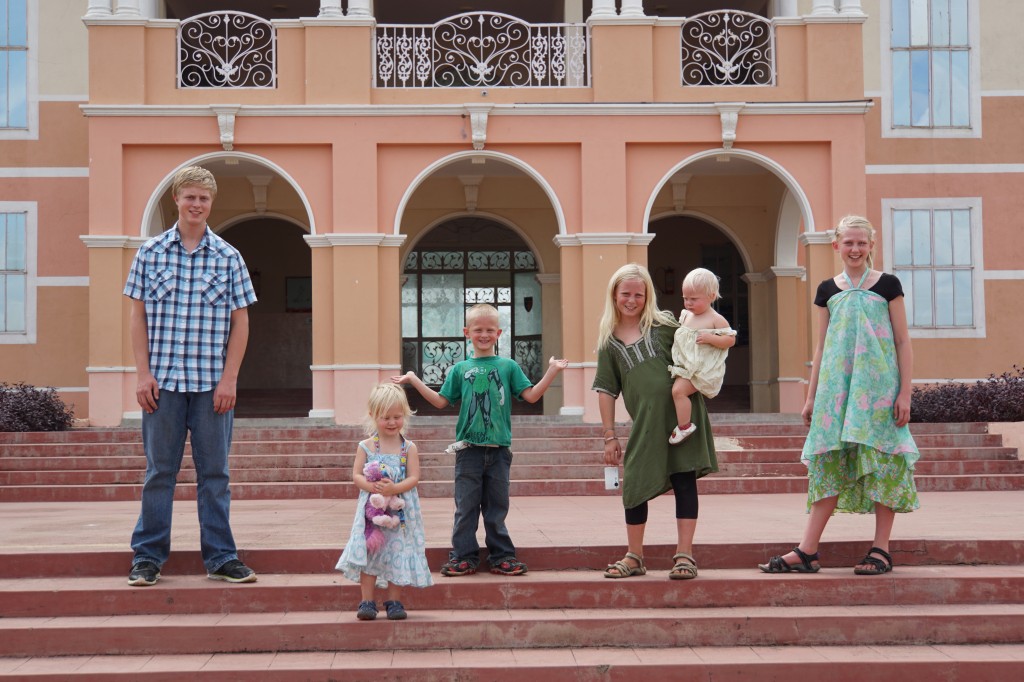 Our family loves to travel!!!  We love going on outreach trips and vacations together.  We love the memories we create on these trips whether by plane, by van, or by RV.  Traveling with children requires preparation, planning, and work, but it is SO worth it.  We grow closer to each other through these shared experiences, and we grow in our love for various missionaries around the world.
This past October we went on a family trip to Asia. My mom, sister, brother, and close friend joined us on this trip.   It was an incredible experience!   We learned so much and grew in so many ways!
We get so comfortable in Colorado.  It's easy to forget the struggles of people all around the world.  We get caught up in our own lives, our own problems.  Travelling puts things into perspective and gets us out of complacency.
We recently returned home from vacationing at our Fish camp in Lake Providence, Louisiana for part of Christmas break.  We enjoyed watching movies, finishing a puzzle we started last summer, playing games, reading, fishing, and just hanging out together as a family.
Eric and I have learned a lot about traveling with children from our many family adventures.  In this post, I'll share some travel tips and hope to encourage you to take your family on outreach trips and vacations.
Before any of our children were born, we prayed that they would be good travelers. Ever since Eric and I were young teenagers we have wanted to travel around the country and around the world using arts in ministry.  We love to learn about what God is doing through people around the world and get so excited about different cultures, languages, and foods!  We didn't want our childbearing years to be devoid of travel and adventure, so we decided our children would travel with us and we would experience the world together as a family.   Eric works hard to provide for our family to be able to take these trips.   Travel is a priority in our home and something we feel called by God to do during our time on earth as we raise our children. It is by the grace of God that we have been able to travel, by His grace that our travels have been blessed, and by His grace we will continue to be able to travel in the future.
I have seen our children grow closer to each other through our vacations and outreach trips together. Traveling with our children allows us to have large chunks of quality time together. We are so busy in our normal every day life. When we get away from the normal, routine business, we are able to bond and grow in new ways.   Outreach trips and vacations provide our children with plenty of time and opportunity to get to know each other better, see each other accomplish new things, and have fun together.  They've got their best friends right there experiencing the same amazing, difficult, fun, frustrating, exciting, boring, delicious, scary, powerful, beautiful things we experience when we travel.
Our family trips have made a huge impact in how our children relate to other people. Our older children feel comfortable talking with people of any age and ethnicity. They are able to freely communicate with people who are different from themselves.  They do not judge people based on skin color or the amount of money they have.   I was amazed watching our twelve year old daughter confidently  speak to a large group of women at a school in Asia.   She bravely taught a baking class to elementary school children, figuring out what to bake and how to communicate with the children, all on her own.  Our 14 year old son taught keyboarding and enthusiastically prayed for people.  Our 8 year old daughter made friends with local children and helped us wherever she could.  Our 5 year old participated in the art class Eric taught.   Tirzah who is cautiously courageous and learning to overcome shyness freely danced in worship.  This fills me with joy!   I want our children to have hearts not just for Colorado and their circle of friends, but for the whole world!  Taking our children on these trips helps make this happen.
Traveling is an educational experience.  Whether or not you home school your children, traveling is a wonderful way to teach your children about geography, culture, history, architecture, art, music, speech and so much more!  Our children have not just learned about the Middle East, Asia, Europe, and Southern United States from a textbook. They've been there, met the people, tasted the food, and experienced the culture firsthand.  We look at maps, read books, watch videos, and talk about the places we are going to before we go there.  Traveling has been an integral part of our children's home school education.
So, here are my tips for travelling with children.
Packing.   We pack as light as possible.   On most of our trips we are able to do laundry which helps me out a lot.  I pack clothing that is light weight, comfortable, and easy to wash and wear. I pack our suitcases based on who will be sharing a room together and rarely does anyone get a suitcase all to themselves.  Any item in question is probably best left at home.   Fewer items to keep track of means less stress and less mess.   Ziplock bags are helpful for organizing socks, undies, and toiletries.  Each child gets their own back pack in which they can pack whatever toys, activities, or personal items they want during travel.
Travel by plane.  Our children, for the most part enjoy travel by plane, especially international flights.   Those international flights are long, but they also provide meals and unlimited movies and games, and those little bags that include an eye mask, ear plugs, and a toothbrush and toothpaste.  This is all very exciting for kids.  (I find it to be exciting too:))  Waiting in checkout lines, going through security, and time spent before boarding our plane provides great opportunities to learn and talk about patience.  Teamwork is put into practice as everyone pulls suitcases, carries car seats, back packs, pushing elevator buttons, etc…  Eric and I have learned that pairing up a younger sibling with an older sibling works well for travel by plane.   Our younger children travel almost perfectly when sitting next to an older sibling.  We've received many comments from flight attendants regarding how well behaved our children are.  Pairing those younger children with their big brother or sister makes the whole experience more of an adventure and opportunity to be "big".  We monitor what they watch, are right there for whatever they need, but have the older siblings help with their earphones, drinks, etc.. I always try to pack a variety of snacks for each child's back pack when traveling by plane.  If our children are bored, they'll pull out a snack, if they get hungry, I can remind them they have their snacks in their back pack.  Snacks are a must!
Travel by van or RV.   A couple of years ago we bought a used Class C RV.  I have a love/hate relationship with our RV.   RVing is an adventure like no other.  There is something wonderful about a house on wheels.   Something delightful about having the whole family packed into this tiny space that goes just about anywhere you want it to go provided there are good roads to travel on.   I love having all of our items tucked away in the little drawers and cupboards.  I love my cozy, comfy little bed, our tiny RV tv, and meals served and eaten on picnic tables at various campgrounds and RV resorts.  I could go on and on about RV resorts.   We spent 3 weeks traveling up the east coast from Florida staying at a number of different places.  Oh it was fun!   But with RVing you never know what is going to break, when the AC is going to stop running, a tire is going to go flat, the toilet get clogged, etc. etc. etc….  Our children still talk about Eric getting his hand stuck in the toilet on our first RV trip.   He manually unplugged our clogged toilet.  (We had not yet learned proper RV toilet usage and the result was major yuck!)  There are plenty of things to do in an RV.  Our children read books when we travel by RV or Van.  They watch movies on our little RV tv. They color, and talk, and we listen to music or audio adventures together.   Of course the Ipad is always a great boredom buster when it's loaded with fun and educational apps and games.
Items I recommend for travelling with children:
Snacks and plenty of them.  Goldfish, dried fruit, gum, beef jerky, crackers, fruit snacks, string cheese, suckers, and popcorn are some of our kid's favorite travelling snacks.
Activity books like Melissa and Doug sticker and coloring books. Tirzah is especially a fan of the faces book.  We also enjoy Color Wonder books.
Audio adventures like the Brinkman Family Adventures.  This series is our current favorite. We've listened to season 1 and 2 and LOVED it!  All ages will enjoy the  adventures and stories of the Brinkman Family in this audio series.  If you are thinking about taking a family outreach trip, you should totally listen to this audio series!
An EtchASketch.  We brought one on our last RV trip and our kids all used it and enjoyed it.   Sometimes it's just good to put down the "devices" and use an old fashioned toy.
Ipods and Ipads.  Our older children enjoy playing games and listening to music when we travel.
Yarn.  Our older girls love to knit and finger knit.  This non-messy activity is also productive and creative.
Remember less is more when traveling.  (with the exception of snacks)  Children can entertain themselves more easily than we think they can. Even a cup and a spoon can be entertaining to a toddler when travelling. (I'm serious!)  Your kids should be able to fit all their personal items, toys, and activities in their own back pack or bag.
Behavior dos and don'ts:
We don't allow fighting.  Our children argue every day, but we don't allow them to get into full blown fights.   Traveling together provides our children with the opportunity to grow closer to each other.  They learn to work things out, get a long, help each other and enjoy each other. A perk to having a big family that travels together is that our kids don't really miss their friends when we travel. They are each others friends.   They have playmates every where we go.  I am extremely thankful for this.
Our children need to be respectful of the people and places we go.  They need to pick up after themselves, say please and thank you, be patient, and cooperate as a team.  They are not allowed to make fun of people or customs that our different from ours.  They need to participate in whatever it is we decide to do and have good attitudes.
Traveling with babies.   Rarely have I traveled without a baby.   My number one recommendation for travelling with a baby is a good baby carrier. My favorites are the Ergo and Sakura Bloom ring sling.  I wear my babies and toddlers wherever we go.  They are calmer, happier, and more easily adjust to new environments when they are worn close to mama or daddy.  Our little ones are also safer when worn in a carrier.  People are far less likely to reach out and touch a baby that is worn in a sling than a baby who is in a stroller or being carried.   I pack a nursing cover up so that I can feed them whenever they want and this almost always puts them at ease. For the most part our babies go with the flow. When we travel in the RV or van, our little ones are all safely buckled into their car seats.  Older siblings are almost all that our babies need to keep them entertained.  They take in all of the conversations, questions, and noise.  Only when they are hungry, sleepy, or in need of a diaper change do they usually cry. Once they are old enough for solid foods, I pack fun snacks for our babies and toddlers like crackers or healthy cookies.  For me, the most difficult part about traveling with babies is sleep adjustments.   New rooms, new beds, different schedules make it more difficult for our babies to fall asleep and stay asleep.  This means more time slept in my arms, more night time breast feedings, and less sleep for me.   I have learned to rely on the Lord for His strength, nap when I can, and know that our babies will adjust after a few days. Like I said earlier, it is worth it!
High Point Low Point.  We try to maintain our family Bible times when we travel.  We don't want to take a vacation from our relationship with the Lord, so especially in recent years and on all of our mission trips we have a devotional time and also do "High Point Low Point." We share one high point and one low point from the day.  We all enjoy hearing what each other has to say.  This isn't something we do everyday in Colorado, but something special for vacations and mission trips.  Oftentimes, I am surprised by what my husband and children share.  This is another way we grow closer to each other and learn more about each other when we travel.
Road Games
On road trips we play games like, Eye Spy,  the Alphabet Game,  the John Deere Tractor Game (We made this one up.  It's a sort of eye spy John Deer tractor game involving a complicated scoring system that can get pretty intense).  So fun!  These games are good for keeping the driver alert on a long road trip.
 My Number One Tip.  Stay Calm, Have Fun. Happy Mama equals happy family. 
I've learned that when mama ain't happy, nobody's happy. When I'm frazzled and angry, this effects everyone's mood. When I'm uncomfortable or irritated, it rubs off on the whole family. It's important especially for us wives and mothers to have fun and be joyful on family vacations.  I have my moments.  Things do not always go as planned.  There will always be problems on every trip.   Your attitude about those problems can be contagious and affect the experience for everyone.  Eric and I get into arguments when we travel just like our children do, but we do our best to stay connected and resolve things quickly.  Eric's likes to remind us of Rick Steves quote, "Be fanatically positive, militantly optimistic."  On this note, make sure you buy a travel guide especially for family vacations.  For a $15 book you can save a ton of time and money!
With God's help we try to remain peaceful when stressful situations arise.  When the kids throw fits, the best thing I can do is to stay calm, love them and get through the fit.  On a recent trip,  passing through customs, one of our children decided they didn't want to co-operate with the customs officer.  This child refused to look at the officer, began to kick and scream, and go into one of the biggest public fits any of our children have ever thrown.  Inside I was frazzled, horrified, embarrassed, did not know what to do, and felt like crying.  Most of the people in the lines behind and next to us smiled graciously at us during this fit, but there were a number of people who looked at us with shock and disgust and I could just imagine what they were thinking.   Granted, it was 1:00 in the morning after an extremely long and exhausting day for us and our children.
We FINALLY made it through customs and our child fell asleep a short time later.  This experience required me to stay calm and also made me realize I had some work to do in training this little one in the area of obedience even when tired! It is important for me to follow my husbands lead when we travel.  If I begin to get critical and discontented the whole family is effected.
We pray A LOT whenever we go on trips.  We pray about where to go, when to go, and then we pray often, every day while we are travelling.  Prayer for protection, favor, fun, blessing, health, and strength.  I also ask others for prayer.  Every time we take a trip I thank God for what He is allowing us to do and pray that we will be a blessing to the people we encounter. Prayer is so important.  You cannot underestimate the power of prayer in preparation for a family trip.
I encourage you to travel with your family!  Whether it's a weekend away in a nearby town or a short term outreach trip, your family will be enriched and refreshed when you take time to enjoy each other and serve God together away from the familiarity of home.  You will grow in your relationship with the Lord.  You will become a more patient, compassionate parent.  Your children will be changed (in a good way).   And you'll probably long to take more family trips.
Keep in mind that you can do fundraising for outreach trips.  Fundraising letters are one of the best ways to raise support.  Don't be ashamed to ask for money.  You're giving others the opportunity to be a part of your outreach trip when you ask them to give.  God makes the way and He provides!
I also encourage you to check out the Brinkman Adventure series.  These audio adventures are based on real life stories.  Your whole family will enjoy listening to each episode designed to draw you and your children closer to the Lord and give you a heart for people around the world.